WE WILL RIOT – An explanation from Insane Bill Coltrane
With an unbelievable Pacific Cup, and an outstanding Seek & Destroy now in the rear view mirror, ECCW was going to be scheduled in their third and final city in this month of March. But due unforeseen events, ECCW will no longer be running events in the Sapperton Hall or the city of New Westminster. Therefore, ECCW has put the truck in reverse, and we are returning to Port Coquitlam for WE WILL RIOT!
For one night only, The RIOT will be taking over Port Coquitlam and giving back to their loyal fans by presenting a great night of wrestling action. The rambunctious group will be the presenters of this ECCW event, and will be giving away all of the prizes that we have posted over on our official Facebook page. All of our ticket holders for WE WILL RIOT will be eligible, but you must be in attendance to win a prize.
ATTENDANCE = WIN!
Come this Saturday Poco will get to see the one match that has been building for months. Scotty Mac, in his quest for gold, will finally go one on one with the King of the Yukon for the Canadian Heavyweight championship. Ever since his sneak attack on the King in January, Scotty and his Administration cohorts have assaulted and done damage to the champion at every opportunity. But on Saturday, it will be one on one facing off for the championship. Will the confirmed appearance of Mike Sweetser be that extra edge that Scotty needed to finally win championship gold? Or will Scotty be one more name etched into the building legacy that is King of the Yukon?
Earlier this month at Pacific Cup, The RIOT lost their tag team titles after Alex Plexis physically removed Ravenous Randy from the match, and replaced him as the partner of Nicole Matthews in their defense against The Administration's Scotty Mac and Jamie Diaz. And it was Plexis that was on the receiving end of Diaz's Axe Kick, taking the pinfall and costing his team the championship. Needless to say, Ravenous Randy was far from impressed. Plexis and Randy had to be separated by their stablemates, and all frustrated parties took their leave.
Now, how will Ravenous Randy and Alex Plexis co-exist in tag team action? All eyes will be on this one for sure, as The RIOT go up against The Stallions in a tag team grudge match.. Usually, any combination of The RIOT could be in the ring with Artemis Spencer and Tony Baroni amicably. But Plexis and Randy almost came to blows in Vancouver, and now have to be partners against two of the best wrestlers in ECCW.
After what went down at Survivor, Sid Sylum found himself in an encounter with Bishop and the Natural Backstage. As seen on our Youtube channel, things got very serious.
BISHOP CONFRONTS SYLUM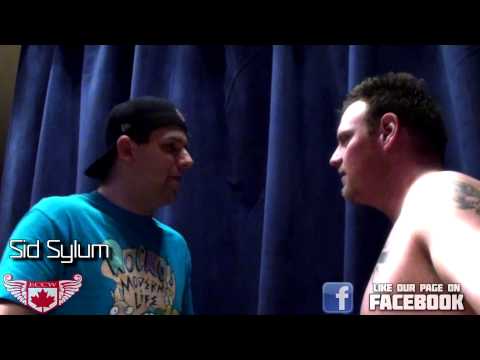 As you can see, Sylum and Bishop each lay blame on the other for their own personal misfortunes as of late. The only way to settle the argument, is in the ring this Saturday in Poco. Bishop has been a man possessed since losing his title last Fall, and is more ferocious and aggressive than I have ever seen him. Sid Sylum has been on a roll in his own right, doing everything he can to win matches against top opposition in his quest to regain the ECCW championship. Every time these two have met in the ring, they unleashed hell on each other.
Can anyone remember an ECCW before KC Spinelli was Women's champion? I can, but that means little compared to just how incredible she has been in her now seventeen month reign as champion. Competition travelled from all over to come to ECCW and try winning the Women's championship, but Spinelli has bested them all. But can the KC Express keep on rolling, as the title is put on the line against the Canadian NINJA, Nicole Matthews. Since losing the title to KC in October of 2011, Matthews has been thus far unsuccessful in her attempts to win back the championship that she once held so long ago. And with the current state of The RIOT, will Matthews' frustrations fuel her drive to regaining the title, or make her past title reign a fading memory?
Also this Saturday, Jamie Diaz meets Andy the Dreadful Bird in singles action, in the latest chapter of the feud between The Administration and The RIOT. Other ECCW wrestlers are sure to be making an appearance, so be there this Saturday in Port Coquitlam for We Will RIOT.