From the desk of Insane Bill Coltrane
It has been nearly a month since ECCW closed out 2012 at The Art of Wrestling in New Westminster. But while the year may be new, 2013 sees familiar rivalries renewed in our trio of January events. Our first stop is in Vancouver on January 12th for Season's Beatings!
The King of the Yukon recently won the NWA Canadian Heavyweight Championship a month ago, and he has already shown himself to be one of the most fighting champions in the long lineage of this prestigious title. As if winning the title from Bishop wasn't tough enough, the new champion then went on to successfully defend it a week later against four opponents in the same match. But almost as soon as the referee could declare the King as the winner, familiar foe El Phantasmo emerged on the scene and lay claim to a shot at Yukon gold.
Preview: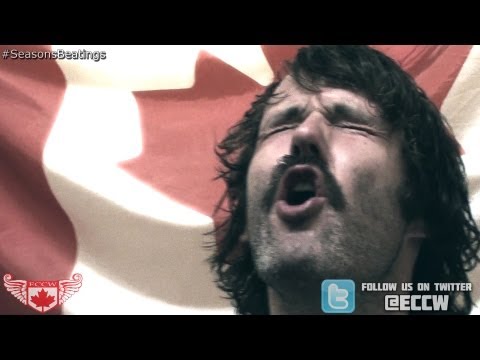 El Phantasmo, the same man that King of the Yukon defeated inside of a steel cage to earn the title match.  ELP has proclaimed himself to be the best wrestler in all of Canada, and a man that the champion can't keep up with.  A challenge was made and accepted for January 12th in Vancouver that will see these two competitors go one on one in the first ever No Rules 30 Minute Iron Man Match for the NWA Canadian Heavyweight Championship. Will this match being anything goes for half an hour be El Phantasmo's long sought title victory?  Or will we see once again that no challenge is too daunting for the King of the Yukon?
ECCW's tag team division has produced not only some of the best matches of 2012, but some heated rivalries as well.  Two teams that are very hot at each other are the Bollywood Boyz and The Administration. Neither the Sihra brothers or Jamie Diaz and Scotty Mac have been able to defeat The RIOT for the titles, with each team now casting blame on the other for preventing such an opportunity.  This animosity has spilled out of the ring and into the backstage area at Gold Rush in Vancouver last month.
Backstage altercation: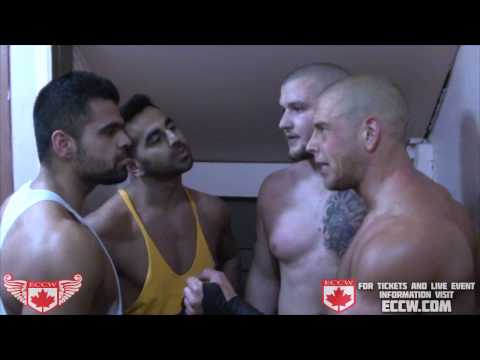 And so the Bollywood Boyz and the Administration will square off in Vancouver, in a match fueled by blame and animosity. Making things more interesting is that neither team has been shy towards bending or even breaking the rules to win their matches.  Victory could very well be decided by who outsmarts their opponents in that regard.  But what could be most interesting about this confrontation is not only the match itself, but that Scotty Mac has vowed that victory in Vancouver would mean five minutes alone in the ring with Joel, a fan who has recently gotten caught up in Scotty's business and even cost him a title match last month.
Joel responds to Scotty :
In what could be one of the most unique matches in ECCW history, and there has been a lot of them, the ECCW tag team titles will be on the line in what is being billed as a Birthday Party Death Match.  This match came about in honour of the Vancouver event falling on Nicole Matthews' birthday weekend.  To celebrate the occasion, Nicole and her RIOT partner Ravenous Randy will be defending the titles against The Stallions. Nobody outside of these competitors seems to know the rules pertaining to this match, but the name suggests that there could be equal parts fun and fighting. Contrary to the Sihras and Administration, these two teams have the upmost respect for each other. But respect for each other and celebrating Nicole's birthday will only go so far, as The Stallions will not ignore the fact that the titles are on the line in this most likely bizarre yet amazing confrontation.  This will also be The Stallions first shot at The RIOT for the titles since a double countout at Shooting Star Six in November.  The only match since then was in singles competition, as Andy the Dreadful Bird defeated Tony Baroni at Gold Rush.  One thing is for certain, the Birthday Party Death Match will be one that neither the fans nor the four competitors will ever forget.
Also in Vancouver, J_Sin Sullivan will be looking to steamroll through The RIOT's Alex Plexis and get his name back into title contention.  Sullivan was in some hellacious wars in the later months of 2012, while Plexis was no slouch either in helping bring the tag team titles to The RIOT and giving everything he has to keep them there.  Size always matters, but the speed and agility of the young gun could very well steal victory from the clutches of the big grizzly.
Ontario born Cat Power makes her return to ECCW, as she has been given a second chance to wrestle the Women's championship away from titleholder KC Spinelli.  These two ladies went toe to toe at Wrestling With Hunger in November, with Cat Power looking impressive enough in defeat to have earned herself another title opportunity. Will the challenger's experience and mat skills bring Cat Power success the second time around, or will the resilient young champion keep her 15 month title reign going strong? All of this action and more goes down this Saturday night in Vancouver.
If one weekend of wrestling action isn't enough for you, then surely a double shot weekend only six days later will be exactly what you need.  We kick things off Friday, January 18th in Port Coquitlam for Pocopalooza!
Since separating himself from Natural Selection, Azeem the Dream has crossed paths with his former cohorts on several occasions.  Most recently, Azeem came very close to defeating Bishop for the Canadian Heavyweight title at Turnbuckles & Toys in Surrey. Bishop is a very angry man since losing his championship to King of the Yukon, and is looking to take out that anger on anyone and everyone that sets foot in the ring with him.  Always wanting to prove himself in the ring against all competition, Azeem is more than willing to step back in the ring with the big man and show Port Coquitlam what he's made of.
The Cremator has had a rough go of things since he left The House of Hell back in June.  Though he thought he could forget the horde of misfits, that horde has not forgotten about him. Rigor Von Slasher has sent his demonic servants against the monster of mayhem again and again, most recently adding Lak Saddartha as a tipping point in the war.  After countless interferences and disqualifications over the months, Port Coquitlam will see the Cremator run the gauntlet against the entire House of Hell. This match requires that he go one on one with each member in succession, but will this sadistic stable abide by the rules or burn the Cremator once and for all?
This great card will also see Sid Sylum against the Poco turncoat, Jamie Diaz, in a battle of size and strength for Sylum's ECCW championship.  Natural Selection locks horns with The Stallions in tag team action, and Nicole Matthews steps into the ring with young upstart Sammy Hall.  Lots of excitement in Port Coquitlam, and we carry it right over to Saturday, January 19th, as ECCW returns to the last stop of 2012 in New Westminster for Wild Wild New West!
Should Sid Sylum be victorious over Jamie Diaz in Poco, and showing once again that our champions take on all challengers, he will defend his ECCW championship against three other wrestlers in a main event New West Street Fight. His three challengers will be decided by way of three qualifying matches earlier in the night. We have put together quite a random assortment of competitors, but rest assured that any of these six wrestlers are more than qualified to earn themselves a title shot.
Our first qualifying match sees El Phantasmo taking on Hardcore champion Moondog Manson.  ELP sees himself as Canada's greatest wrestler, while Manson would rather use a chairshot than a wristlock. It will be very interesting to see who comes out on top in this battle of agility versus artillery.  In a rematch from Halloween Hell, Pete Powers and The Cremator will throw down one more time with an opportunity at championship gold on the line.  Powers has vehemently stated that the ECCW championship is a title that he never lost, and wants nothing more than to get it back.  And in quite possibly our most eclectic qualifying match, Bishop will square off against Nicole Matthews.  Bishop is still steaming from losing the Canadian Heavyweight championship, and would love an opportunity to regain the title he once held no matter who he has to run through.  Nicole Matthews is arguably ECCW's greatest female wrestler ever, and is no stranger to taking on men inside the squared circle.  She has never gone after one of the "male" championships, but she has the tools to be a legitimate dark horse.  The only question is whether her skills will be enough to get past the massive and ferocious Bishop.
The night only gets better, as we also have The RIOT defending the tag team titles against Team Live Badass. Mike Santiago and Ethan HD have been a wrecking ball since teaming up in ECCW, and most certainly do live badass. They will definitely push the champions to the limit. We will see even more tag team action, as Ray Brooks teams up with Azeem the Dream to take on the Administration's Jamie Diaz and Jordie Taylor.
This is most certainly going to be three great nights of wrestling that you do not want to miss.  To find out how you can be a part of the action, visit ECCW.com, like us on facebook, or tweet @ECCW for more details.
See you at ringside,
"Insane" Bill Coltrane
ECCW Ambassador